Homeslice is a fun and quirky pizzeria. The inside of homeslice looks more like the inside of a hip ski lodge than it does a classic pizza restaurant. In addition to traditional seating, there are plenty of couches for guests to lounge on and have a drink if they don't feel like eating. The best seats in the house are out on Homeslice's huge patio which is lit by crisscrossed lines of hanging paper lanterns.
Homeslice Wheel House is a pet-friendly pizzeria serving brunch, lunch, and dinner. Those wanting to dig into a slice alongside their furry friend can sit at one of Homeslice's sixteen outdoor tables to enjoy their meal. One of the main draws for visitors to Homeslice is the sheer variety of pizzas. All pizzas are served as either small, medium, or large. One of the most popular pies is the "knife and forker" with pepperoni, blackened chicken, bacon, red onion, mozzarella, provolone, cheddar and BBQ sauce. Its menu includes thirty types of pizza,  and that doesn't include the build-your-own option or the non-pizza entrées and appetizers on the menu. A variety of starters, soups, and salads. Frequent visitors to Homeslice Wheel House recommend topping off your meal with cookie dough balls for dessert. Homeslice Wheel House opens at 11:30am Monday through Friday and 11:00am Saturday and Sunday.
Here are some of the  Menu you can order in Homeslice: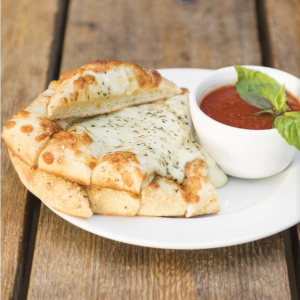 Baked fresh with mozzarella, provolone, shake cheese, oregano then served with marinara sauce.
---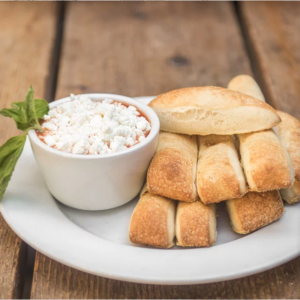 Beer-basted and served hot with a bubbly goat cheese marinara sauce for dipping.
---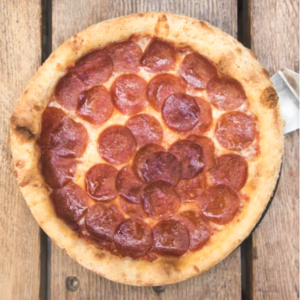 An all-time favorite with pepperoni, mozzarella, provolone and marinara.
---
Read angel j.'s review of Homeslice on Yelp
Read Meryl F.'s review of Homeslice on Yelp
Read Shazeen S.'s review of Homeslice on Yelp