We had the pleasure of visiting the one and only – Goose Island Beer Co. You may have seen the Goose on the can while perusing the beer section – but whats the story of this Chi Town brew? It opened its doors in 1988 after John Hall took a life-changing trip to Europe, where he gained an appreciation for local beer as well as a realization that Americans did not have nearly enough options.
Hall decided to open Goose Island Brewery and Brewpub on the north side of Chicago, a city classically set up for brewers; with easy and ready access to one of the largest fresh water systems in the world. What started off as a local craft brewery and brewpub in 1988 had, by 1995, become so popular in Chicago that Hall opened a larger brewery and a bottling plant. In 1992, Goose Island introduced their first Bourbon County Stout to mark the anniversary of their 1,000th batch of beer brewed, which made them one of the first breweries in the Midwest to venture into barrel-aged beer.
Initially disqualified from the Great American Beer Festival because it didn't meet any existing style classification, Bourbon County Stout kicked off a revolution in beer. Now, some 20 years later, barrel-aged beers have enjoyed their own competitive category at G.A.B.F. for a decade, and even have their own festival, called the Festival of Wood and Barrel Aged Beer. Goose Island remains one of Chicago's most productive breweries, with beers available in all 50 states and the United Kingdom.
Now that you know the background – why not stop by for a taste and a tour?  The brewpub has a large bar and tables for dining or and sampling.  They've got a full menu of pub food but we went to try the beer!  The bartenders were great and knew practically everything you could question them on.  Also, they have a few experimental beers on tap that aren't available to he general public.  The brewery tour was great and there were plenty of samples to try along the way.  But just make sure you wear close toed shoes, otherwise you'll be borrowing a pair of Doc Martin boots which had a bit of a smell to them.
---
Reviews of Goose Island Brewpub:
"Great tour. Almost went pear shaped as I had booked a 4pm tour and my guidebook stated the brewery was at Clybourn (3.2 miles in the wrong direction), however this is under renovation. After getting to the correct venue at Fulton Street Chris was brilliant and booked me on the 6pm tour which I made by the skin of my teeth.
The tour was well worth the effort and both Chris and his colleague gave a great fun tour. Lovely bar to enjoy after where I sampled some great beers not available outside too.I would recommend."
by: Clithe82
---
"Our guide Tyler was really fun. Told us all about the history of the brewery and more importantly the beers!
Got to try a few samples as well."
by: Fergus W.
---
Best Brewery Tour I've Been On
"I've been on over a dozen brewery tours throughout the midwest and this was the most fun I've ever had on a tour. Our tour guide, Dana, was energetic, funny, knowledgeable and not afraid to poke fun at people along the tour. She gave her information with such gusto that you couldn't not have a great time.I highly recommend this tour for anyone from a beer novice to a beer nerd"
by: AaronS3058
---
One of the best tasting tours in Chicago, hands down!
"First off, you have to do a tiny bit of planning to get on this tour. Reservations are not required, but they keep the tour size very small so they fill up fast.
Now, you might think $12 for a brew tour is crazy, who charges for these things? Well let me tell you, that $12 comes back to you double it's worth with the tastings and pint glass you get on the tour! Seriously I'm surprised they don't charge more. You get to taste at least 4 beers, and occasionally you'll get to sample small batch or stuff that isn't easy to get outside of the brewery.
The tour guides are super fun; snarky, sassy, everything you'd expect from people who drink and talk about beer for a living. Our guide was Melissa, she was really fun, well spoken, and hilarious.
Strongly recommend this one, it's great any time of year!"
by: Rocio A
---
"Melissa was a great tour guide! She was knowledgeable and fun. Yes, you get beer samples on the tour. Yes, you get beer samples after the tour. They go through the whole brewing and bottling process, and they even take you to the barrel storage room. A nice quick tour (about an hour) for only $12, and they even give you a nice souvenir pint glass. I enjoyed the entire tour…..and I don't even drink!"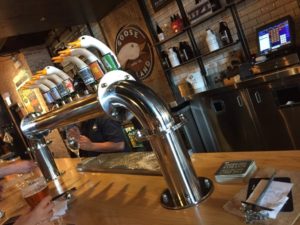 by: btong22222
---
"Our tour guy, Eric, was an interesting little guy. He was funny when he didn't realize it and that made for a good time. Great information on the tour and free tastes too! If you have a good time like we did, throw some cash at the tour guide to show your gratitude. They might get free beer but that don't pay the bills. I like that you can buy sample sizes here and try all the different beers on tap. They offer flights as well. Some people asked if they had food, so just pointing out that this is a brewery not serving food. It's all about the beer here. Bonus, free parking."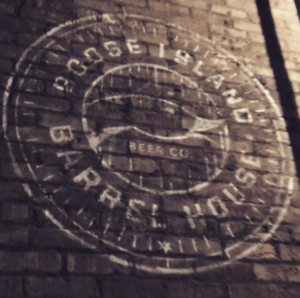 by: Here2Sea
---
Have the munchies after sampling some Goose Island beer?  Check out our review of the delicious Homeslice in Chicago.