It might sound to good to be true, right?  Imagine being able to just pack up and hit the road for pennies on the dollar.  We're not talking about signing up for 15 credit cards to get bonus points for a free flight.  Rather, it's about being "in the know" with airfare typos, flash sales, or last minute deals.  Scott from Scott's Cheap Flights has been around the world a few times over, but his best deal was a non stop flight from New York City to Milan for $130.
Scott says, "It was amazing. To this day, I still can't believe I got to take that trip. It was funny because Milan wasn't on my radar at all. It wasn't a place I was dying to go to or anything. But, for $130 there's nowhere that I wouldn't go to. And so, I ended up having a great trip. I went skiing in the Alps. I went to a new HRM Soccer game. Went down, hiked Lake Tiempitera, Lake Como, all that sort of stuff. When I got back from that trip that all my friends and co-workers started asking me, "Hey, Scott. Can you let me know next time you find a deal like that, so I can get in on it too?" And then, rather than trying to remember each individual person I was supposed to tip off about these deals, I decided, "Alright, I'm just going to start a little email list." If I find something decent I can just send it out to everybody at once."
This is how his now fledgling business started – just a way to let other like minded travelers about great deals he had knack for finding online.  Scott's Cheap Flights is a website service that sends emails to users about cheap airline tickets. It was founded by Scott Keyes and grew due to word of mouth, particularly on Reddit. As of July 1, 2017 it has more than 730,000 subscribers. It has been cited as a quality means by which to find cheap airline tickets, and Scott has been quoted as an authority on the subject.
Here's what our inbox looks like just from the past month of cheap flights: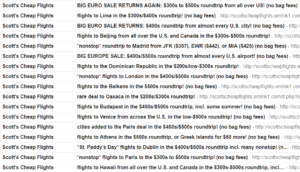 Spend St. Patrick's Day in Dublin for $300 round trip or check out Lima, Peru for $250 – insane!  The e-mail list is free, but you can upgrade for a measly $3.25 per month and get EVERY deal before the general public.  Even if you take one international flight a year, this is worth every penny and has now become the go-to for all travelers, not just backpackers.
Again, it's a free resource that is well worth getting a few emails from each week – and who knows, maybe you'll be drinking a pint of Guinness this March 17th in Dublin!