Let's face it, none of us could have predicted what 2020 had in store for us. That means we need to get creative and keep the spark alive in our relationships.
Luckily, there are companies that cater to those who want a date night paired with a safe covid-19 activity. We've found all the different date night subscription boxes, which is a really easy option to fall back since they do the planning for you. It's the perfect time to check them out especially if you're quarantining.
5 Date Night Options from Home
Wait, a date night from home? Yes! And it's more fun than you might think. A date night box is basically a planned date in a box that gets delivered to your door. Each box has curated items and most of them have some sort of theme.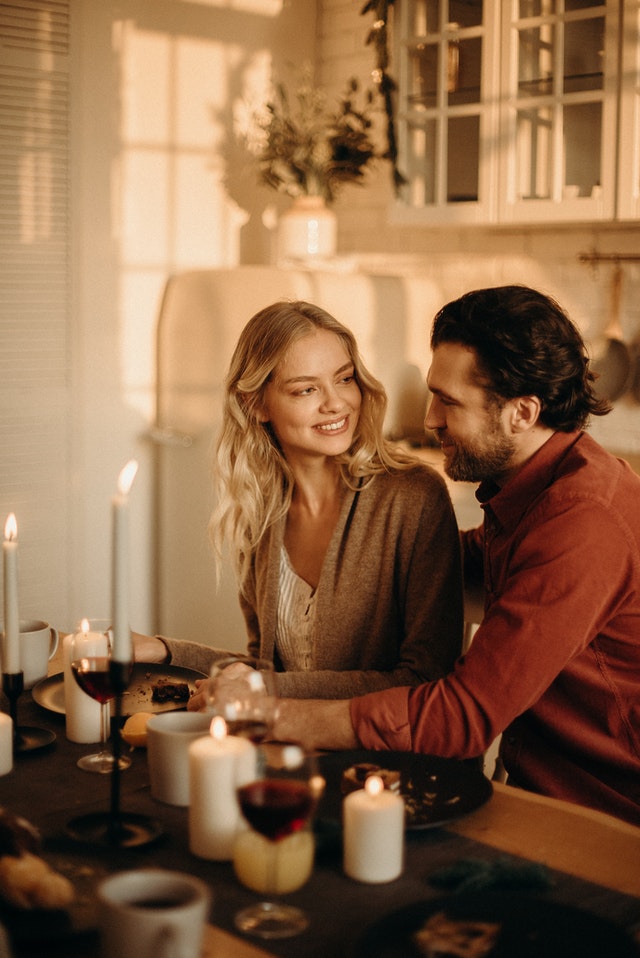 1. HAPPILY
Cost: $32.99 – $39.99 ($20 off your first box with our link)
What We Love: When it comes to the best-designed boxes, we loved Happily's Datebox the most. Sorry, we do judge by the cover and we loved the font and clean design. What makes Happily stand out from the others is that you fill out a questionnaire, so they can learn more about you and send you date night tailored to you.
Our box required a little bit of preparation. When we opened it, it gave us a list of some items we needed to gather or pick up before the date. What's nice is that you're able to do that without ruining the surprise of the activity.
Even though Esther isn't as much of a game person as I am, we liked that they were more critical thinking type games where we had to work together. Ours also involved making cinnamon rolls. Yum! You can always win us over with sweets
What's Included: This is what was included in the box that we experienced.
Custom Date Playlist
Conversation Starters
3 Games
Online Quiz
One Baking Recipe and Ingredients
2. CRATED WITH LOVE (MOST AFFORDABLE)
Cost: $19.99 – $31.99
What We Love: We did two of their boxes: the Aussie Adventure and Retro Game Show. As travel lovers, we gravitated towards the Aussie Adventure.
We especially loved quizzing each other on Aussie lingo. Plus they give you some challenges to do throughout the week.
Their designs are really cute and well done too!
What's Included:
Instructions / Guide Book
Four Activities / Games
Collectible Badge
A Follow-Up Activity (ours was a poppy plant that we ended up gifting to a friend since they're poisonous to our pets)
3. DATEBOX CLUB
Cost: $32.95 – $39.95
What We Love: Our box came with a Truth or Dare Topple Tower as our game. It was cool to see their own branded products. Plus, it's a game we can play again in the future as a party game with others.
What's Included: It will depend on the theme of your box (i.e. game night, travel, DIY) but it includes everything for a date night. Ours included:
Guide to The Date Night
Custom Spotify Playlist
Game (Truth or Dare Topple Tower / Jenga)
Candle to Set the Mood (Berry scent)
Crown Holder for a Prize / Bet
Snacks (Jelly Belly Camo Beans
4. BONDING BEES
Cost: $34 – $36 (use our promo code below for 10% off)
What We Love: The folks at Bonding Bees create many of their own games, which makes for a unique experience. Our favorite part of the box was their two-week challenge that gave us daily tasks to do something nice for each other.
They also make it a priority to give back to the community through Feeding America and local community programs in Detroit. If you get chosen as their couple of the month, you also get to pick the charity.
What's Included: Our box was jam-packed and they differ every month. In general, you will get these items.
Custom Created Games (We got a board game and two card games)
Snacks / Recipes (We had a baking challenge)
Relationship Building Exercises
DIY Craft (We saw other boxes included it, but it wasn't in ours)
5. UNBOX LOVE
Cost: $39
Each box has a surprise theme.
What We Love: This was our first box where we had a DIY activity, which we loved being able to create something together.
The game that was included in ours was Dirty Words, which will be fun for groups too.
What We Didn't Love: The branding and packaging could use some work, but if you only care about what's in the box
What Was in Our Box:
Game
Snacks and Drink Mixes
Notecards
DIY Supplies (this one was for DIY fridge magnets)
BONUS: SCAVENGER BOX
Cost: $69.99
What We Love: This box is unique because it's totally u to you to make it your own (it's more of a one-time box than a subscription box). Following the instructions, you customize the scavenger hunt and puzzles to make it one-of-a-kind for your relationships.
What's Included:
Clues, puzzles, and tools to help you create the scavenger hunt
Step-by-step instructions
Rose petals and LED candles to set a romantic scene
Magical ink that disappears
A lockable treasure box to find the final prize
A customizable 'scratch and win' lotto card
OTHER SUBSCRIPTION BOXES YOU CAN USE FOR DATE NIGHT
Shaker & Spoon – For couples who love cocktails, it comes with 3 recipes and everything you need to make them (except the alcohol).
Takeout Kit – Try making new international recipes together! You can read more about it in our best subscription boxes for travelers.
ESSENTIAL TIPS FOR PLANNING A GREAT DATE NIGHT
This might seem elementary, but it's something we have to keep reminding ourselves.
Turn off your phones or put them away. You're trying to spend intentional and quality time together.
Make sure it's an activity you will both enjoy. Having fun together is a great way to bond. If you don't have much in common, and you're the one planning the date night, you can also be nice and try doing an activity your partner likes.